Cincinnati Seamless Gutters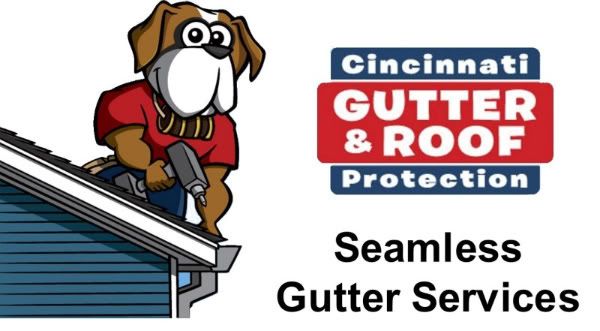 Cincinnati Gutter & Roof Protection installs seamless aluminum gutters . We install both 5" and 6" seamless gutters. All of our gutters are custom extruded on site. We have a wide variety of colors.


Seamless gutters are an important asset to your home, seamless gutters keep water from sitting around your foundation which would otherwise cause leaky basements.


Don't forget to check out our other pages about seamless gutters:
Some customers ask us "Why do I need gutters any way?" That's a great question! One of the main reasons we tell our customers they need gutters is because of the type of soil that we have here in the Southern Ohio area. Our soil is made of clay primarily, which is non porous. When a home is built, the foundation is usually set in clay soil, without gutters, water will sit around the foundation and eventually can cause leaks into foundations where a foundation may have, or start to crack. Without gutters and downspouts your home may experience very expensive and unwanted foundation repairs.



Seamless gutters also keep water that falls from the roof, and dripping on window sills and doors which would otherwise cause wood rot. Without gutters and downspouts, your mulch can also wash out, yards, basements, and finished basements can flood, and homes without gutters and downspouts are more likely to have termite problems. Termites are attracted to wood that has moisture. In most city's building codes require the installation of gutters and downspouts for a occupancy permit.
Some homes use their gutter system for their cistern's, supplying their homes with water necessary for everyday cleaning, and other water needs. We can also help you with a gutter system if you have a cistern in your home.
Just a brief history about seamless gutters; seamless gutters were introduced in the early 1960's when the first seamless gutter machine was introduced. Prior to 1960 gutters were primarily made of galvanized material, which eventually rusts and the gutters were usually seamed every 10' to 20' and soldered together. Eventually the galvanized material rusts through and starts to leak. The advancements made in the seamless gutter industry now allow us to install a all one piece section of gutter, up to any length and the material is made of aluminum which never rusts.
We also do gutter repairs and gutter cleanings.
Cincinnati Gutter & Roof Protection invites you to contact us for all your roofing, vinyl siding, gutter and gutter guard needs. Call (513) 563 - 9988 or send us an email Click here.
Attention Cincinnati homeowners - Spring is here, now is a great time to get your gutters cleaned out. Not only do we clean out your gutters and downspouts but we also check your gutters to make sure the winters ice hasn't pulled your gutters away from your gutter boards and we check your end caps and corners to make sure they are properly sealed. Gutters are always checked for proper drainage too. Ask about our spring gutter tune up and gutter cleaning.
Return to the Cincinnati Gutter Roofing Siding home page