Cincinnati Blown In Attic Insulation Contractor
---

---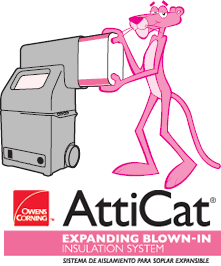 ---



Cincinnati Gutter & Roof Protection specializes in blown in attic insulation.
With the escalating costs of rising utility bills, homeowners can help offset those expenses by insulating their attics. Nearly 50% of homes are not properly insulated. When your attic lacks the proper amount of insulation, your heating and cooling can escape, causing your furnace and air conditioner to work harder than it should, causing your utility bills to be higher, and prematurely wearing out your furnace and / or air conditioning unit.
While replacing drafty windows is a good idea, most customers think about windows before they think about their attic insulation. You can insulate your attic for about one third the cost of new windows (on average) and in most cases save more on your utilities than you would if you replaced your windows. Think about it, heat rises, where does your heat go when your furnace kicks on......to your ceiling, and up to your attic? Yes, you might have some air that escapes through your windows, but more heat will escape through your attic if not properly insulated.
Before you have your attic insulated, make sure you understand the materials that can be used to insulate an attic. The two most common types of attic insulation are cellulose insulation, and fiber glass insulation. Both types are usually blown in with an insulation machine and a hose to transfer the material to the attic. Cellulose insulation is made of ground up newspaper that has been chemically treated, while fiber glass insulation is made of recycled glass. Cellulose insulation is usually the cheaper of the two types of insulation, but it is our opinion that the better quality of the two types of insulation is the blown in fiberglass.
One of the reasons we prefer the fiberglass over the cellulose is because of moisture issues. If cellulose gets damp or wet, it shrinks, hardens like concrete and can loose it's r value (resistance to heat flow). There has also been issues with mold involving cellulose according to our insurance company. Some insurance company's won't insure an insulation company if they know cellulose is being blown in, because of mold issue's. While it's not recommended that fiberglass get wet or damp, issues with the fiberglass creating mold problems are a less of a concern versus using a cellulose product in our opinion.
We also inspect the baffles in your attic to make sure they are properly installed. Sometimes we find that no baffles exist or some are missing, or some may not be installed properly, sometimes your soffit vents are covered with insulation because the baffles are not in place. If your soffit vents are covered with insulation, your roof will not be vented properly and can cause your roof decking to warp (because of excessive heat and moisture), and cause your roof to fail prematurely.


Request a free estimate now! - Click here
We invite you to contact us for a free insulation inspection. Call us for all your attic insulation questions and needs at (513)563 9988.
Areas Serviced
Cincinnati Ohio, Dayton Ohio, Northern Kentucky, Eastern Indiana, Hidden Valley, Lawrenceburg, Petersburg, Burlington, Hebron, Villa Hills, Crescent Springs, Erlanger, Florence, Elsmere, Edgewood, Taylor Mill, Fort Mitchell, Park Hills, Alexandria, Covington, New Port, Wilder, Dayton, Bellevue, Southgate, Highland Heights, Cold Springs, New Richmond, Amelia, Batavia, Owensville, Goshen, Loveland, Westchester, Oxford, Fairfield, Hamilton, Ross, Sprindale, Forest Park, Green Hills, Glendale, Woodlawn, Wyoming, Reading, Lockland, Amberley,Norwood, Clifton, Silverton, Deer Park, Blue Ash, Sharonville, Evendale, Montgomery, North College Hill, College Hill, Maderia, Milford, Terrace Park, Marriemont, Newtown, Mason, Maineville.
If you don't see your area, contact us, and we will let you know if we service your area.


Return to the Cincinnati Gutter Roofing Siding home page