Gutter cleaning and gutter repair services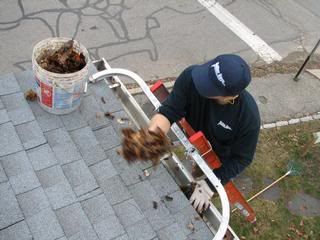 Cincinnati Gutter & Roof Protection offers gutter cleaning services. We recommend cleaning your gutters at least twice a year. Once in the spring, right after the seedlings drop off the trees, and once in the fall, right after the leaves fall.
Keeping your gutters clean will help avoid costly repairs bills to your foundation, siding, window sills, and landscaping. Over time, overflowing gutters can allow water to sit around your foundation, causing foundation problems. Overflowing gutters can overflow and rot out your siding and window sills.
Clogged gutters can attract mosquito's. Mosquito's like to nest in stagnant water that could be nesting in your gutters. Over flowing clogged gutters can attract termites. Termites like wood that is moist. When your gutters are overflowing, rain water can be working it's way to your siding and the wood structure of your home making conditions just right for the invitation of termites.
A little routine maintainence is less expensive than having to encounter some of the more serious problems that we mentioned above.
Cincinnati Gutter and Roof Protection is s full service gutter cleaning company. As part of the gutter cleaning process, we also check to make sure your gutters are tight to the house and reseal any corners or end caps that may be leaking.


Request a free estimate now! - Click here


Cincinnati Gutter & Roof Protection invites you to contact us for all your roofing, vinyl siding, gutter and gutter guard needs. Call (513) 563 - 9988 or send us an email Click here.


Click here to read a recent article in the Cincinnati Enquirer. Angie Hicks, the CEO of Angie's List wrote an article about gutter cleaning and gutter guards. Our company was featured in the article.


Return to the Cincinnati Gutter Roofing Siding home page