Cincinnati Enquirer features an article by Angie Hicks of Angie's list on gutter cleaning and gutter guards. We are interviewed by Angie's List in this article.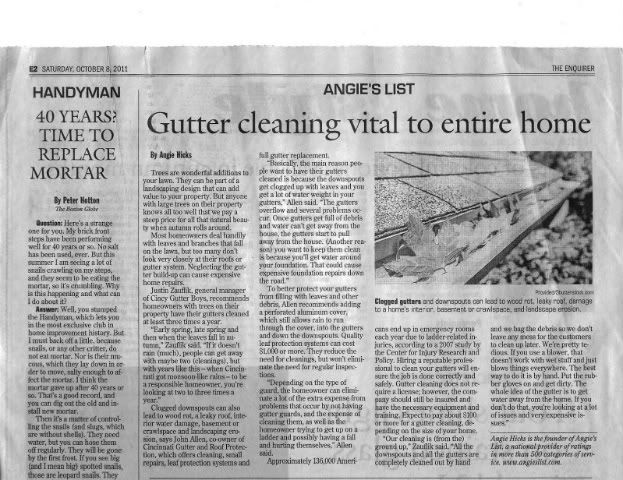 See below for the easy to read version
Gutter cleaning vital to entire home
Saturday, October 8 2011
By Angie Hicks
Trees are wonderful additions to your lawn. They can be part of a landscaping design that can add value to your property. But anyone with large trees on their property knows all too well that we pay a steep price for all the natural beauty when autumn rolls around.
Most homeowners deal handily with leaves and branches that fall on the lawn, but too many don't look very closely at their roofs or gutter system. Neglecting the gutter build-up can cause expensive home repairs.
Justin Zauflik, general manager of Cincy Gutter Boys, reommends homeowners with trees on their property have their gutters cleaned at least three times a year."Early spring, late spring and then when the leaves fall in autumn, "Zauflik said. "If it doesn't rain (much), people can get away with maybe two (cleanings), but with years like this-when Cincinnati got monsoon-like rains-to be a responsible homeowner, you're looking at two to three times a year."
Clogged downspouts can also lead to wood rot, a leaky roof, interior water damage, basement or crawlspace and landscaping erosion, says John Allen, co-owner of Cincinnati Gutter and Roof Protection, which offers cleaning, small repairs, leaf protection systems and full gutter replacement.
"Basically, the main reason people want to have their gutters cleaned is because the downspouts get clogged up with leaves and you get a lot of water weight in your gutters, "Allen said. "The gutters overflow and several problems occur. Once gutters get full of debris and water can't get away from the house, the gutters start to pull away from the house. (Another reason) you want to keep them clean is because you'll get water around your foundation. That could cause expensive foundation repairs down the road."
To better protect your gutters from filling with leaves and other debris, Allen recommends adding a perforated aluminum cover, which still allows rain to run through the cover, into the gutters and down the downspouts. Quality leaf protection systems can cost $500.00 to $1,000.00 or more depending on how many lineal feet of gutter your home has. They reduce the need for cleanings, but won't eliminate the need for periodical inspections.
"Depending on the type of guard, the homeowner can eliminate a lot of extra expense from problems that occur by not having gutter guards, and the expense of cleaning them, as well as the homeowner trying to get up on a ladder and possibly having a fall and hurting themselves," Allen said.
Approximately 136,000 Americans end up in the emergency rooms each year due to ladder-related injuries, according to a 2007 study by the Center for Injury Research and Policy. Hiring a reputable professional to clean your gutters will ensure the job is done correctly and safely. Gutter cleaning does not require a license; however, the company should still be insured and have the necessary equipment and training. Expect to pay about $100.00 or more fo a gutter cleaning, depending on the size of your home.
Clogged gutters and downspouts can lead to wood rot, leaky roof, damage to a home's interior, basement or crawlspace, and landscape erosion.



Cincinnati Gutter & Roof Protection invites you to contact us for all your roofing, vinyl siding, gutter and gutter guard needs. Call (513) 563 - 9988 or send us an email Click here.

Return to the Cincinnati Gutter Roofing Siding home page