Roofing Product Information
We have access to nearly all brands of roof shingles made by major roof shingle manufactures. This page is under construction but you will see some of the shingles that we prefer to install.
Oakridge PRO series shingles
Premium roofing products installed with a complete roofing system.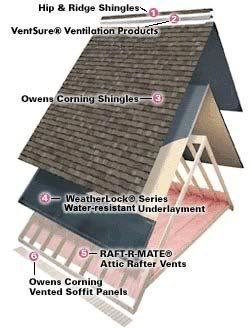 The Owens Corning Oakridge Pro Series roof shingle is a dimensional shingle and comes in 12 colors. See color selection below.
For the latest in roofing, Oakridge PRO Series roof shingles are the perfect choice for any homeowner. The Oakridge Pro Series consists of three different products - each with a look of it's own. Choose from the dramatic three-dimensional effect of our Oakridge PRO 50 Deep Shadow shingles, the warm, inviting presenence of Oakrige PRO 40 Shadow shingles, or the subtle color blends of Oakrige PRO 30 roof shingles.
Amber

Brownwood

Chateau Green
Colonial Slate

Desert Tan
Driftwood
Estate Gray
Harbor Blue

Onyx Black

Quarry Gray

Sierra Gray
Teak
Owens Corning Prominence AR Shingles
Prominence AR shingles have the textured look of a dimensional laminate shingle. The distinctive color blends provide exceptional beauty for your roof. And you can be assured this beauty will last for years and years.
More information coming soon!
Cincinnati Gutter & Roof Protection invites you to contact us for all your roofing, vinyl siding, gutter and gutter guard needs, call (513) 563 - 9988.
Click here to email us for a free estimate or more information
Check out our Cincinnati roofing installation page
Check out our Cincinnati roofing warranty page
Check out our Cincinnati roofing discount page
Check out our ask any Cincinnati roofing company page
Return to the main Cincinnati roofing page
Return to the Cincinnati Gutter Roofing Siding Home Page